My Cape Dory 28 - Entropy II
I've had several people ask me if I liked my 28 ft. Cape Dory and would I recommend others to buy one. Here's my answer.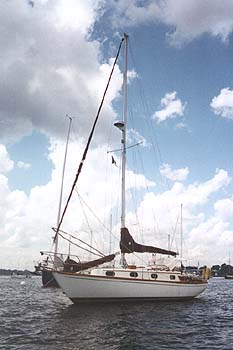 I have had my Cape Dory 28 for 8 years and have been very happy with it. They made the 28 from about 1974-1987. I have a 1983 hull # 358. They did a few design changes over the years so the 1980's may be considered a little better bet. There are lots of bargains out in the boat market today. I kept the original rig - a club footed working jib for brisk to heavy winds and a 140% genoa for light winds. The hanked on sails are a little work ( vs a furling headsail) but they really sail very well. The working jib is a single sheet which make short tacking easy. If you're not up to the work you may want to get a boat that has been converted to a self furling head sail. The Cape Dory 28 is a very sweet sailor -9000# displacement with a Carl Alberg design hull makes for a comfortable ride in various weather conditions.She may not be the fastest but she's a cruiser that points well and is easy to sail.I even have a tri-radial spinaker on mine. The compromise is the 9 ft beam means a modest interior with about 6 ft headroom. My boat is powered by a Volvo MD 7B diesel (18 hp) which is a great work horse but a little loud and slightly smokey.I would consider buying a larger sailboat but I like the one I have too much.
Below is the original spec and description from the manufacture.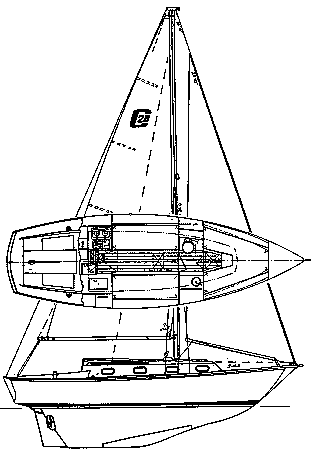 Specifications

| | |
| --- | --- |
| L.O.A.: | 28' 1 3/4 " |
| L.W.L.: | 22' 2 1/2" |
| Beam: | 8' 10 1/2" |
| Draft: | 4' 0" |
| Displacement: | 9000 lbs. |
| Ballast: | 3500 lbs |
| Sail Area: | 404 sq. ft. |
| Mast Height: | 40 1/2' |
| Designer: | Carl Alberg |
| Years Built | 1974 - 1987 |
| Nr. Built | 388 |
The Cape Dory 28 offers her owner more practical cruising features combined in one design than other yachts of her size ... features such as a self-tending club footed jib for effortless windward sailing ... a bowsprit that incorporates an anchor roller ... and a large Volvo Diesel that adds safety and dependability. These features, when combined with the famous Alberg full keel and moderate, well-distributed sail plan result in a yacht that is easily handled by a minimum of crew. Her hefty displacement of 9,000 pounds, and her long keel with attached rudder allow the Cape Dory 28 to hold her course in a seaway. These features mean comfortable motion, stiffness, and security to all aboard. Other standard equipment such as bronze opening ports, lightning ground system, bronze seacocks on all thru-hull fittings and solid bronze hardware, reflect the determination of Cape Dory to supply a cruising boat of the highest standards.
Take a close look at the Cape Dory 28. We think you'll agree she is the answer to a cruising family's dreams.