This is a special location which I cruise to often. The Occohannock Creek is where I grew up and where my parents live. I avoid the hustle and bustle of traffic crossing the Chesapeake Bay Bridge Tunnel by zipping across the bay from the Piankatank River to the Occohannock and dock my boat at one of my parentís neighborís dock. The Occohannoch Creek is not for anyone drawing over 6 feet of water. The small channel leading into the creek shoals to around 5 ft at low tide around the "5" daymark. The key is to go slow and on a rising tide. (1.8 ft.is is normal tidal range) Once inside the "6" daymark youíll find plenty of water assuming you have a current chart and use it. The channel can be followed all the way up to Shieldís Bridge but I suggest you drop anchor around Pons Pt. (Northeast of "R16"). Supplies can be found a little futher up at Davis Wharf. For the real adventurous folk there is a public landing at Morleyís Wharf which leads 5 miles to the town of Exmore. If you like to fish or crab donít forget to bring your pole or chicken necks. Get out your dinghy and use it to explore the coves and headwaters.

---
Kiptopeke and the Concrete Ships
If you have never visited the concrete ships at Kiptopeke you are in for a real treat. This location has an attractive and unusual view with a beach park on shore. The concrete ship bulkhead was built after World War II to provide protection for the ferries which used to cross the bay. They offer an overnight anchorage right in the Bay itself. A few years ago the State of Virginia bought the land at Kiptopeke from a private campground and made it into a state park. They have added on to the existing facilities and currently have campsites, a fishing pier, protected beach with lifeguard, and decks over the beach dunes.
The one thing tricky about Kiptopeke is finding the best anchorage spot. First a strong current runs parallel to the shore here and changes direction with the tide. If the wind is out of the southwest there is usually an ocean swell which builds as you near shore. In this case it is usually best to stay out in the deeper water near the ships. If the wind is from the north your best bet is to anchor just south of the fishing pier. In either case you may want to consider laying out two anchors if the wind and the current are playing tug-a-war with your boat.
Things to do;
1. Check in with the park rangers to learn the rules.
2. Swim - ocean like water
3. Fishing - One of the best spots on the bay
4. Explore the park and have a picnic

Things not to do;
1.No marina facilities- have your fuel tank full and your head tank empty
2.Have poor ground tackle - This place demands good equipment and anchoring knowledge.
3.Forget your dinghy - going ashore is a must


In Search of Pirate's Treasure
A Trip to Grog Island
Last weekend my six years old son Mike and I went out for our first overnight cruise without the rest of the family. We had a ball! The wind was just right for a nice bay cruise so I left the Piankatank and headed for Grog Island, just around the bend from Windmill Point. I knew the island would offer us plenty of fun after anchoring and I wasnít disappointed. We explored the island looking for pirateís treasure, swam, fished, and crabbed. Later that afternoon the strong south breeze was making our anchorage a little bumpy so I opted to head up Dymer Creek for Georgeís Cove. This is a very snug area with plenty of water depth and good protection. After a restful night sleep, Mike convinced me to visit Grog Island again the next morning before heading back home.
Grog Island is located on the north side of the mouth of Dymer Creek. There is a deep channel leading to the north point of the island. An easy approach is to start from the "7" daymark and head north. Once clearing the entrance shoals youíll find 8 -10 ft. of water in the protected basin. This is an unusual place where (if you dare) you can beach the bow of your sailboat on the tip of the north beach and still have 5 ft at your keel. The steep drop off around the north point of the island offers an ideal place to fish from the beach. For crabbing or wading the east shore has a shallow shelf. The island does have a little wooded area but beware - It is full of poison ivy! The protection from the weather is good from all direction except the south. If in my case the wind is brisk from the south, then head up Dymer for either Georgeís Cove or Ashleyís Cove. One warning, Grog Island is a very popular place so expect to share this gem with several other boats on a busy summer weekend.

Quick and Easy - A Stop on Mill Creek
When heading north up the bay I find myself searching for a place to tuck into for the night before making the stretch between Smith Point and the Patuxent River. What I am looking for is a place not too far from the bay but with good protection and a nice setting. Mill Creek is one of my favorite choices.
There are many different Mill Creeks on the Chesapeake Bay. This cruise is to the one located near the mouth of the Great Wicomico River. To begin your approach head SW from the Great Wicomico Light. Use your charts and be certain to pick up the correct ď2Ē daymarker - not the one WSW of the light. Once inside the creek continue to follow the daymarkers until passing the ď5Ē. For the next one-half mile upstream just about anywhere will offer a good anchorage.
While youíre there, break out the dinghy and go exploring. This creek has some interesting coves and headwaters. The lovely surroundings begs to be enjoyed. If you happen to meet up with a swan -Beware! I was first greeted and then attacked by a swan on one of my site seeing rides.
Mill Creek is a great place just to be lazy. It is quiet with very little boat traffic. If the weather looks threatening donít worry, the shelter offered in Mill Creek is more than adequate. Iíve sat out some major thunderstorms there with relative comfort. Chart of Mill Creek

Mid-Bay Cruising
This Cruise of the WEB comes from one of my readers Jimbo. He has the following suggestions for mid-bay cruising.I had asked him about Taylor Island Marina and other mid bay spots.Thanks -

Hi Jim,

OK, Taylor Island Marina is a different marina; rustic and laid back. One of the best things is the fee. Regardless of the size of your boat, the fee is $30. If you go there (back in Slaughter Creek), you MUST go over to the village store/resturant/bar for 2 crab cakes, french fries & cole slaw...all for $9.95...goodddd! Yes, you can go there by either bicycle or dinghy as you can see this place from the marina in the distance...we always go by dinghy. You can also choose to eat an evening meal at a 'bed and breakfast' located right at the marina. The USCG has a crew there. They use to have a station there, but reduced it to only a patrol boat about 2 years ago. If you go there and can not reach owner via VHF while coming in, just tie up on T-dock/end of pier and make yourself at home. Forget combo for head...ask 'Coasties"...or, just try to get in as most of the time the door does not lock ...pay in morning.

Yes, we have been in 'back door' to St. Mikes many times over the years...all the way back to the last 'Y' and then to the right leg, towards the waterman dock, about 100-200 yards and drop anchor...I'm 5ft. draft. Oxford - we always anchor back in Town Creek across from Crockett Bros. Marina and water tower...dinghy in to Crockett Bros. dinghy dock..you are welcome there. We were there last spring when store burnt.
Cambridge Municipal Marina is fairly cheap place ($1/ft.) and your bicycle will come in handle...I bike also.
Another favorite in that area is Saw Mill Cove, up La Trappe Creek...depending your draft how far back in you can go. Sept. 1983, a bad storm/cold front pushed us back in there (we then had a Rhodes Continential 22ft. then) just by luck. We went from shorts that morning after leaving Oxford for Cambridge and by the time the front went thru, we were in long pants, sweaters and jackets. We liked it so much that we stayed remainder of afternoon and evening as ducks and geese came down in water out from the small cove we were anchored in. Another favourite in the big Chop Tank is Dunn Cove, up Harris Creek, to port after coming thru Knapps Narrows. Have been going all of these places in big Chop Tank since 1983...Dunn Cove is pretty open unless you go back in toward the farm (stay away from point w/woods coming in as shoal comes wayyy out before turning back into farm cove), however, we have rode out many bad storms there...one Sept., on way to Crisfield, we had the worse storm w/hail like marbles...no problem...visibility was down to zero during that storm. This is always our 'kick off point' when heading for Solomons. Also up Broad River, off of Chop Tank, are many place to anchor. Last year (July 4, 1995) we went back in Grace Creek almost to the crab processing plant, dropped anchor and I dinhgied in with bicycle and ask if I could tie up someplace out of the way...guy said, "Sure". That is in the village of Bozman...from there I rode down to Neavitt dock where watermen come in and back to Bozman..~ 12 miles believe.
Also up off Broad is a Calk Creek, which we went there last year for first time, quiet and peaceful, beautiful sun set that evening which we could watch until down all the way.
I mentioned a couple of these places in trans that I lost to you sometime ago...never had that happen before or since.
Oh yes, if you go into Solomons, we like to go all the way up past Spring Cove Marina (best fuel prices there) another mile maybe to a little cove with brick home on point and a boat barn back in cove...another quiet and peaceful, well protected...only brick home near, woods on other side. St. Leonard Creek on up Patuxent is an interesting creek if you have never been there...we went there 3 years ago to Vera's Marina/Resturant...very different, but kind of expensive food, marina cheap...once so we can say we were there.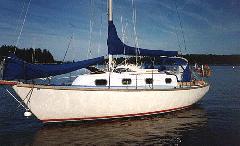 from JimBo aboard "MI AMOUR"