Do you have a safety harness and a proper fixture to secure it to on your boat? Well as the water temperatures start to drop so do your chance of survival if you happen to go over the side. A life preserver is good but that still means that the boat has to come back and find you. This is very unlikely if you solo sail like I do.
On my boat I have permanent jacklines made of 1/4Ē rigging wire which run from bow to stern on both sides. They are stretched fairly tight so that I donít trip over them. Other types of jacklines are made of heavy harness strap material but those are usually removable since the sunís UV exposure will weaken them. Even a spare line run from the bow cleat to the stern cleat will do in a pinch. The object is to avoid attaching to the convenient location of lifelines or their bases. Lifelines are generally not constructed to take the forces generated by your safety tether and they also do not allow you to travel very far before having to be detached.
If you donít have a safety harness please get a quality one that fits. This is not the piece of equipment to cut corners on cost. Cheap one are cheap - A good one will cost $80 -100 at a discount store. Fancier models are available which have built-in flotation and other horns and whistles. Get one - Wear It - Use it properly -It could save your life.
I agree with your comments. The forces are very high on the vector analysis of the taut line with a deflection perpendicular to the line. The point you make is a good one and that is the reason I use 1/4" stay wire with backed up thru deck U bolts for end fittings. The same analysis is true for those who use lifelines and it is the reason you can't depend on them. My choice is based on the fact that I can use the jackstays easily and have oversized them for the forces. My suggestion to use line in a pinch may not be great but better than nothing. If you are interested I'm an engineer and the math is quite simple. The angle with force applied = about 8 degrees.( from pulling on actual stay) For the force let's use 400#.( The person doesn't weigh that much but allows for momentum) You have two sides supporting the load so the force on one side is 200#. The line tension = 200/ sin 8 deg. = 1437 # (your guess of 1 ton was close)This does not account for the hanging up on lifelines, sheets or other stuff but it does allow you to play with the numbers. The fact that the wire stretches makes a big difference because if the line remained at a 1 degree angle the forces would be 11,460 # WOW! Slack lines have less force but may cause tripping or tangling. Taut lines (or better -less slack lines) allow easier use with much high forces. Thanks for the feedback Rick
Cooking with Gas
Onboard "Entropy II" I have an old fashion pressurized alcohol stove. Iíve learn to operate it properly and it works fine for low to moderate cooking temperatures but it really is slow when boiling a quantity of water. For my pressure cooker or pan frying a steak it just doesnít produce enough heat. If I had a larger boat Iíd certainly consider installing a built-in propane stove but the requirements for proper installation is really not practical on a 28 ft. boat.
My solution is my single burner sea stove and I love it. This stove uses a single one pound propane cylinder and has a gimbal mount on a detachable bracket. I have one bracket located next to my alcohol stove and one outside on the stern rail. For normal cooking I always use the sea stove first. While it is working I still have available the 2 alcohol burners which serve fine for the simpler task like warming up vegetables. During the hot summer I put the sea stove out on the stern rail and prepare "one pot" specials in my pressure cooker. With the propane as my main burner I find that I can go 7 to 10 meals on one cylinder. Refilling my alcohol stove tank has been more than cut in half.
Propane gas is heavier than air so please take the proper precautions. Do not store the propane cylinders in the cabin or in the lockers. I have a bag attached to my stern pulpit which holds three cylinders. After cooking I always return the propane tank to its storage bag. It may not be fancy but Iím cooking with gas.

Cabin Top Traveler Installation
Russ Campbell modified his Cape Dory 28 from the standard end boom main sheet arrangement to a mid-boom with a cabin top traveler. I am interested in doing the same to my boat. Here's how he did it.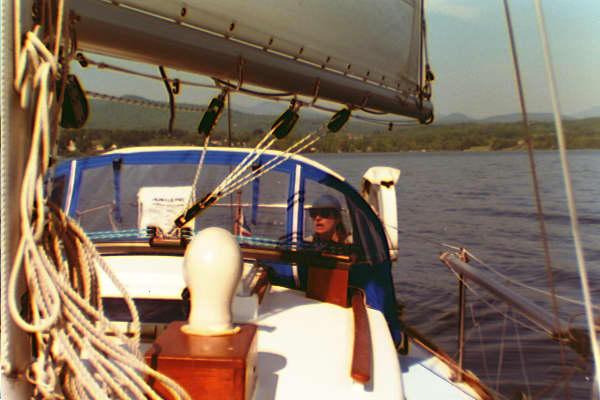 The installation wasn't hard at all. The hard part was buying 8" stainless steel bolts to go through the teak blocks and through the cabin top. No I didn't reinforce the cabin top. After drilling through it I found out its like 3/4" thick and I put big backing plates under the bolts. I cut holes in the head liner to access the nuts and covered them over with thin blocks of teak. I used a 5 to 1 mainsheet system and led the sheet up to the gooseneck and then back to the cabin top winch which seems to be more than adequate to sheet it in. I haven't really found the sheeting force to be that big a deal. It only takes a couple of wraps around the winch and I can crank the sheet in 30+ knots of wind with no trouble at all. Also we used a 4 to1 system on the control lines and even with the main fully loaded in the worst wind even my wife could pull the car up to center line and beyond. The real bonus as you mention is the gain in cockpit space and the fact that you don't have those sheets dragging through the cockpit every time you tack ( or especially jibe). The sail also handles much better and you can control the main better. You can take some of the heel out ( which my wife is appreciative of) with the traveler. It was kind of expensive mostly because I also put in a new mainsheet system using Harken blocks (1540) the price for everything was around $1000.

Rub Rail Upgrade
For many years I lived with the bare teak toe/rub rails on my Cape Dory. While the teak rail is very pretty, it is totally useless as a rub rail. Whenever arriving at dock I was constantly avoiding any contact with the rail to protect them. When tying up along side of a dock I had to use many fenders to ensure nothing would touch the soft teak railing. Hence, I called them my rubless rails.After too long of a delay I finally added the required metal rub strip.
My decision was to go with stainless steel. If I was going to add the strip to protect the teak I didn't want to go cheap and use aluminum and worry about it getting damaged. I got my rails from West Marine (model 408278) in 12 foot lenghts and predrilled on 6" centers.I started at the stern and worked my way around the boat fastening with #8 screws. I also used a little silicon sealant to bed the strip.For the ends at the bow I used tapered rub rail ends (model#202390).The total material cost was under $200 and it took about 2 hours for the job. My only regret was "Why didn't I do this sooner?".
Chart Symbols and Terms Manual
This tip of the week came by way of a Christmas gift from one of my fellow workers. We exchange names at the office and give each other gifts during our Christmas party. My standard is to pick something like a peanut gift box which is easy to find and certain to be consumed by the receiver. This year I received a sailing calendar and the Nautical Chart -Symbols, Abbreviations and Terms Manual. This manual is great and the topic of my tip.
The Nautical Chart -Symbols, Abbreviations and Terms Manual is prepared jointly by the Dept. of Commerce (NOAA) and Dept. of Defense (DMA). It has all the keys,symbols,notes,and terms to explain everything found on NOAA charts. I had the actual Chart #1 (a training chart of somewhere in New England) which on the back gives most of the key information but it was never handy when I needed it. This manual is laid out well by listing items in groups as well as alphabetically in the index. I can't find my chart #1 to compare it to the manual but I know I like the manual better and will keep it close to my navigation station on my boat. My suggestion is to buy the book for yourself and also keep it in mind for a great gift for that fellow sailor.
Once is Not Enough
How many reefs can you take in your main sail? If the answer is one, plan this winter to get your sail to a sail loft to have an additional reef added. If your answer is two, then could you use another? I had a very high third reef sewn in my Cape Dory sail soon after I purchased the boat. I can probably count the number times I used the third reef on one hand but when I need it , it was great to have. Does your boat have roller furling on the headsail? Is your headsail very large? You may want to consider a jiffy reefing for your genoa. I had a hanked on 140% genoa and an 85% jib, which created a large hole in my sail area range. I know it's a little unconventional but I had a reef added to my genoa to reduce it down to about 110%. No, it isn't as easy as roller furling but it works. The reefed 110% sets well and has allowed me to keep my genoa up much longer than before. Reefing is much easier than changing headsails. Before adding the reef there had been numerous time that I had taken down the genoa and hoisted the jib only to find it necessary to put the genoa back up one hour later. So get with your trusted sailmaker now that business is slow and talk about adding an extra reef. Next cruising season you'll be glad you did.
Know your Knots
For this week's tip I'm going to break away from my usual format and send you out to another link. I have avoided doing this up to this point since I hate the number of pages on the web with little content and only links. However, I was impressed with this site and I think you will enjoy it. It shows you a variety of simple knots and explains how to tie and use them. Besides I can't think of a better way to spend that cold winter's night than with a short piece of cord practicing tying your knots.
Go With The Flow
---
If you have ever cruised up or down the Bay you know that current can make a big difference in your travel time. So what do you do about it? Read those current tables (now listed on my page) and determine a cruise plan that takes advantage of the currents. I know I can't always avoid heading against a current (I try!) but by studying the current time and speed ratio from Reed's for different locations I can make a smarter course selection. For an example the current running 2 miles west of Wolf trap is one -half the speed of the current to the east side of it. If it's going my way I'm to the east, if not then to the west. The time differences also vary and not just in the North and South directions. Here's the point, all you need is an old copy of Reed's-the location differences are the same each year and check the weekly current tables. It's really great when your speed keeps you traveling along with the current for the entire day.